"The point is this: whoever sows sparingly will also reap sparingly, and whoever sows bountifully will also reap bountifully. Each one must give as he has decided in his heart, not reluctantly or under compulsion, for God loves a cheerful giver. And God is able to make all grace abound to you, so that having all sufficiency in all things at all times, you may abound in every good work. As it is written, 'He has distributed freely, he has given to the poor; his righteousness endures forever."
"He who supplies seed to the sower and bread for food will supply and multiply your seed for sowing and increase the harvest of your righteousness. You will be enriched in every way to be generous in every way, which through us will produce thanksgiving to God. For the ministry of this service is not only supplying the needs of the saints but is also overflowing in many thanksgivings to God. By their approval of this service, they will glorify God because of your submission that comes from your confession of the gospel of Christ, and the generosity of your contribution for them and for all others, while they long for you and pray for you, because of the surpassing grace of God upon you. Thanks be to God for his inexpressible gift!" - 2 Corinthians 9:6-15
The spigot's volume of flow in our lives has everything to do with our hearts. A sparing heart is one bereft of gratitude, a vacuum of interest, love, and compassion for others. Just like having air in the pipes makes for a sputtering, inconsistent flow of water, so self-importance and greed make for miserly outpouring in a life turned in on itself.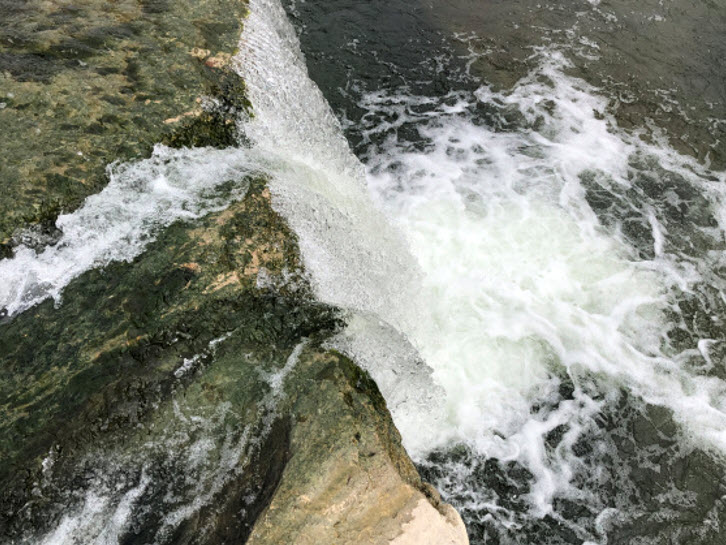 But when we, with Christ's eyes, see needs and are moved by the Spirit to fill them, we become a generous conduit of God's bountiful grace and generous resources. Cheerful, thankful hearts cannot help but overflow. How do we cultivate such an attitude and proclivity? By practicing gratitude in all things. (Exodus 35:5)
Have I rested, and awakened to another day in which the sun has risen? Am I breathing, thinking, able to read and feel, respond and emote and adore? Thank God, the Maker of air and the lungs to inhale, the Craftsman of our senses and color and song, the Fount of knowledge, understanding, hope, and love, the Weaver of nerve synapses and ideas and relationships. Great is He and worthy of praise! (Psalm 145:3)
"Oh, the depth of the riches and wisdom and knowledge of God! How unsearchable are his judgments and how inscrutable his ways!
'For who has known the mind of the Lord,
or who has been his counselor?'
'Or who has given a gift to him
that he might be repaid?'
For from him and through him and to him are all things. To him be glory forever. Amen." - Romans 11:33-36
As I make a habit of thanking God for my salvation, for eternal life and all its attending opportunities, abilities, pleasures, security, challenges, and mysteries, His living water wells up in me, stokes desire to share, and spills out to others. (John 4:14; 7:38)
Father, may I ever express my gratitude for Your bounteous grace and riches by lavishing them on others in Your name. May my living generously reflect Your extravagance and glory.
Blog Credit: www.astherainandsnow.com | March 30, 2020